OR: The Perfect and Pleasant Premier Pop Up Event
The weather may have been less than ideal but the fine fare, dashing décor, and captivating creativity made for a most splendid day indoors! We welcomed our intrepid Creative Explorers to the tables to explore Notes to Our Future Selves – a trio of mini Studio Sessions featuring: Kintsugi Hearts, Mindful Mandalas, and Found Poetry in a blending of creative expression, words, and colors capturing ideas and moments both real and imagined… Each of our Artist Instructors illuminated this theme in a way that highlighted their primary medium.
Our Special Guest Artist for 2018, Jeanne Faith d'Orleans, incorporated her love of fabric in a textile version of Kintsugi. Guests released themselves and/or others with the symbolic mending of fissures in the heart with golden thread while using the written word to release past hurts or present misunderstandings. The results were phenomenal, and the sharing of the messages (or their intent) brought an echoing chorus of "OHs."
Your Creative Connection Co-Founder Michelle Davis Petelinz brought her love of pattern and color to the fore with her presentation of Mindful Mandalas. In addition to expanding the use of the humble water-based marker in an amazing way, our guests explored the symmetry of the form as well as building a base for the presentation of words that matter in the now. This print-making exercise brightened a dreary day with the creation of multiple "stained glass windows" in our work space, punctuated by the murmur of satisfaction in creative discovery.
To close out the afternoon of creative fun, Co-Founder Penny L. Arrowood guided all present in the construction of a bit of Found Poetry – restructuring and/or redacting existing written words to tell another tale, whisper a different wish, or construct an alternate reality. The sharing that followed was in turns humorous and touching – leaving us all a tad gob-smacked by the vivid images one can create with nothing more than words.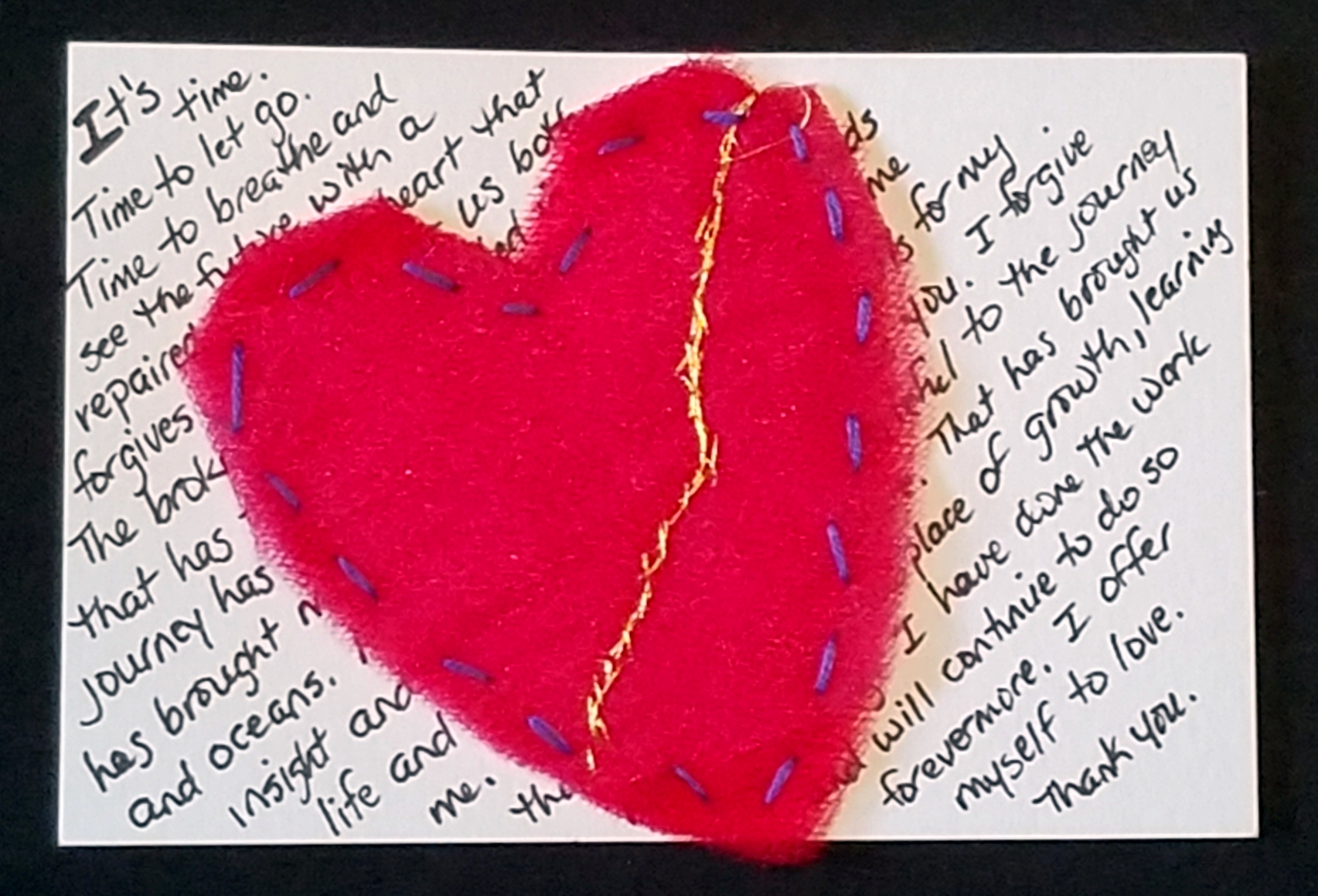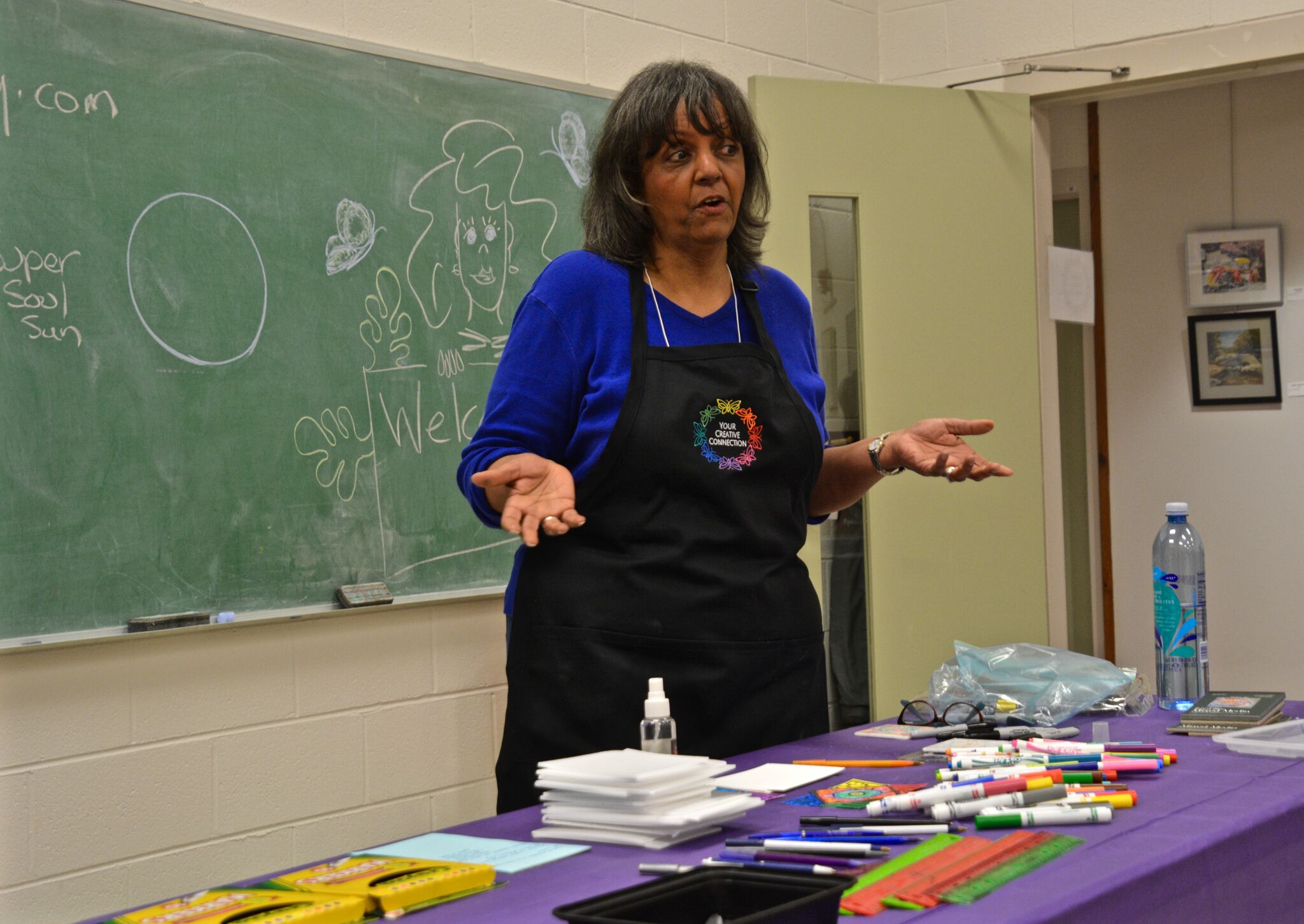 Throughout the afternoon, guests enjoyed an assortment of fresh fruits, dipping sauces, pound cake, lightly salted nuts, iced tea, and water. The perfect fare to fuel our creative engines as we wiled away a rainy afternoon ensconced in the reverie of community, artistic expression, and the sharing of the stories that unite us all.
All of our projects throughout the afternoon were completed on Strathmore Artist Papers Mixed Media Papers (Toned Tan and Gray, Toned Blue, and Heavyweight). Each of our guests received a trio of sample pads featuring these luscious papers – two of which (Toned Blue and Heavyweight) are not yet available in stores (!)
Pop Up participants also received the first public viewing of samples for the Studio Sessions on offer at the 'big event' in October (11-15, 2018 at the Haw River State Park). In another unique twist on the art retreat/experience, in addition to three full days of creative instruction Creative Explorers at Your Creative Connection Haw River will incorporate works from each Studio Session into a physical vessel of their experience at this event. Providing for an incredibly tactile reminder of a magical time, as well as a visual recounting of what was learned and enjoyed on this leg of their Artistic Journey.
Our special thanks to photographers Alan Christianson and Holly Sullenger for so beautifully capturing the event in images for us to treasure! Our thanks also to our Creative Explorers for the day! We enjoyed spending time with each of you, and loved seeing how gloriously different the outcome from each exercise based on the individuality of the maker. We are already looking forward to next time!
With gratitude and appreciation,
~ PLA & MDP